Many brands have pushed hard to coax consumers back into their venues since hospitality restrictions lifted in July. Still, despite their best efforts, data suggests large proportions of customers aren't returning with the same eagerness showed in pre-pandemic life.
So, the big question is why? Well, the most obvious answer is that consumers are now more health cautious, settling for home comforts and opting to stay away from public spaces. That is true to a certain extent, of course. However, 18 months of lockdown has also fundamentally changed our expectations and demands of the hospitality sector.
A reimagined in-venue experience
First, let's start by exploring what Millennials and Gen Z audiences want most from hospitality venues in post-pandemic life. Pubs, bars and restaurants will all want to consider the following expectations if they are to attract young consumers embracing their newfound freedoms: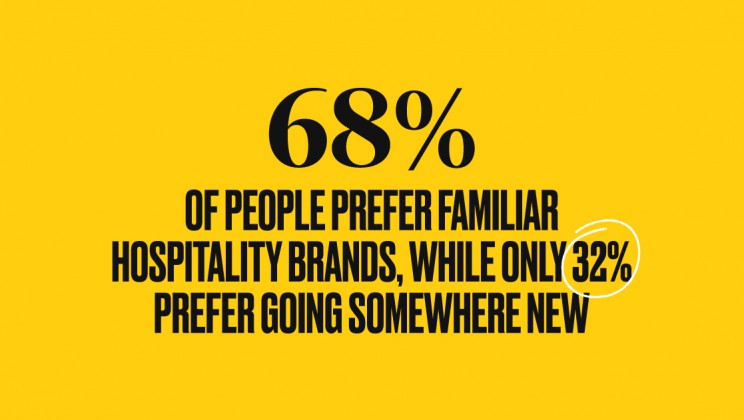 Brands with solid consumer bases will benefit from increased engagement with existing audiences. They can do this by rewarding loyalty with offers and perks, which 45% of consumers now expect.
80% of consumers prefer to meet up in small groups and choose a relaxed atmosphere. As such, hospitality venues can capitalise on this trend by creating zones for different occasions, such as family gatherings, romantic date nights and more lively affairs with friends.
Order and pay app usage has rocketed as a result of increased safety measures. But while under half of consumers (46%) like the ease of this technology, more than half (54%) believe that positive interaction with staff adds to a memorable experience. So, hospitality brands that want to make sure that they have an edge on the competition should ensure their staff are knowledgeable and make recommendations to customers.
Embracing no and low alcohol options
Hospitality data suggests that alcoholic drinks are still the most popular beverage (50%) to enjoy with meals or snacks in bars, pubs and restaurants. However, while Millennials and Gen Z haven't gone entirely teetotal, they are drinking much more in moderation compared to the over-45s. As such, there's a strong demand for low alcohol and non-alcoholic drinks options. Then, it's no surprise that many of the biggest alcohol brands have already embraced this trend. And for good reason.
Data shows that 59% of consumers across all generations want bars, pubs and restaurants to offer healthier drink and food options. As a result, it creates a new opportunity for operators to provide non-alcoholic beverages and more nutritious food, connecting with the wellbeing values both younger and mature audiences now possess.
A difference in attitude towards drinking
Since restrictions lifted in July, we can see that young Millennials and Gen Z consumers are more reserved about returning to hospitality venues when compared to Gen X and Baby Boomers. What's more, these younger consumers also drink significantly less — only 15% of Gen Z drink once a week.
The reason? A difference in attitude. Both Millennials and Gen Z are far more concerned about their health than Gen X and Boomer drinkers. These younger audiences are more attuned to public perceptions of being drunk and want to avoid hangovers.
Gen Z vs Millennials: Hospitality habits
Gen Z habits:
Repeatedly choose a night in over a night out, are risk-averse, hooked on their tech, and want to save money.
Choose quality over quantity when it comes to drinks, food and venues. They drink less, but want the most bang for their buck.
The love DIY mixology and embrace seasonal flavours. For instance, they have a soft spot for alcoholic drinks infused with medicinal herbs, along with superfoods, cold-pressed juices and teas.
They choose alcohol and hospitality brands that fit into their sober-curious lifestyle, trying to balance people, the planet and their wellness.
They want hospitality and alcohol brands that demonstrate purpose-driven values, including sustainability, environmentalism and diversity.
Millennial habits:
They typically chase experiences and happily queue for the hottest venues. They like to get the perfect shot of a tall draught poured in a perfectly seedy dive bar on socials with their friends.
They want quality and quantity drinks, food and venues. The expensive cost of living means they must do more for less.
They like to express their uniqueness through quirky drinks that match their personalities. So they expect to see their favourite spirit in a variety of inspiring and unexpected cocktails.
Typically see alcohol and hospitality brands as a way to complement and express their strong drive for individuality, seeking sharable social experiences.
They are drawn to hospitality and alcohol brands that reflect their personal values and ideas.
How to entice Millennials and Gen Z consumers
Understanding the different drinking attitudes of younger generations offers businesses an opportunity to capitalise on their customer's unique preferences. Particularly elements surrounding conscious-driven lifestyle choices and the way they express their individuality. As such, here's an overview of what the ideal hospitality venue could look like for Millennials and Gen Z (without alienating Gen X and Boomer consumers):
Meal deals, such as a free drink with two courses.
Different zones for families, dates, celebrations, and quietness.
Knowledgeable staff on hand to offer recommendations and excellent service.
Pay and order apps to make service more efficient.
A broad range of low/non-alcoholic drinks.
The option to pay more for larger portions.
Locally sourced food and drinks.
The social heart of the local community.
A range of healthy food and drink options.
Swap non-recyclable packaging for homemade options.
The out-of-home meets in-home experience
Unsurprisingly, drinking at home has grown in popularity since the pandemic began. But did you know that research undertaken by Mintel in 2020 revealed 75% of consumers found drinking and socialising at home just as enjoyable as going out?
On the face of it, this may seem like a threat to the hospitality sector, but it's also an opportunity. Indeed, companies should now look to extend their brand experience into consumers' homes. Here are just a few ideas:
Bring your venue's theme or concept to life by offering food and mixology recipes consumers can enjoy from the comfort of their homes.
Provide home food pairings with drinks and cocktails.
Activate your brand on social media by tapping into the power of user-generated recommendations.
Use your order and pay app to activate loyalty schemes and seasonal offers.
Re-tell a brand story on social media by detailing your expertise, provenance, purpose or local impact.
Be Insta and TikTok-ready. Both Millennials and Gen Z spend 50% of their time on these channels, promoting their favourite brands with user-generated content.
How to drive more footfall for your brand
TrunkBBI is an award-winning integrated marketing agency with expertise in performance-led campaigns. We have helped big brands to activate, engage and grow audiences since 2011, offering a range of digital services. And now we can help you.
Our unique insight framework will help your brand stay on top of changing consumer behaviours by analysing their motivations. In turn, you will have the knowledge to create content that speaks to the right people at the right time — driving more online and on-premise visits.
Our multichannel marketing strategies for the hospitality sector span PR, targeted digital, social activations, gamification and in-app activity. Together, this drives sustained awareness, consideration and visits.