If you're keeping your finger on the digital pulse, you may have noticed that TikTok videos are now starting to appear in Google's Search Engine Results Pages (SERPs). And with nearly 40% of Gen Z preferring to search on TikTok and Instagram over Google Search and Maps, it doesn't surprise us! But what does this mean? Is it a glitch, or are TikTok videos really becoming part of traditional search?
Thanks to a new search feature being tested by Google, TikTok video results ARE appearing in SERPs for informational purposes, which means they could be here to stay. Whilst visibility has yet to exceed the likes of YouTube or Instagram, TikTok videos are starting to show up in a few search results for trending topics, with visibility set to increase further as short-form video becomes more popular.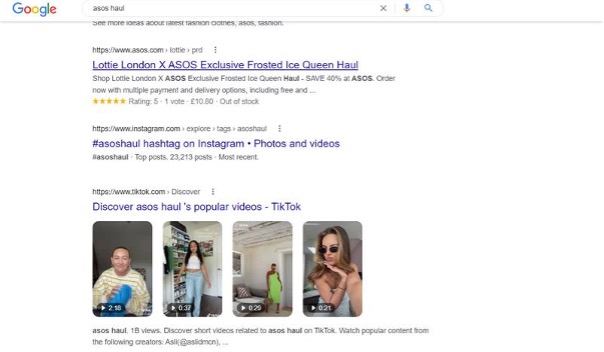 Why is this important to marketing teams?
This new change gives further proof that Google views and reads content on other organic platforms, giving brands all the more reason to invest in organic social to bolster their wider engagement strategy with target audiences.
One thing that hasn't changed, is that organic search performance is generally enhanced when brands are active on other platforms and channels, as this is a huge part of the Google Search Evaluator Guidelines (used to improve Google's algorithm) to demonstrate Expertise, Authority and Trust (EAT).
Being active on social media reinforces the 'Trust' element – signalling that the brand is doing more than trying to simply rank for a keyword – they are creating content specifically for their users and community.The rise of short-form video is no secret, from TikTok to Reels to YouTube Shorts. However, if you're looking to succeed and bring more visitors to your site, then it's important that you create content that feels native to the platform and is what your audience really wants to see. Remember, videos that are popular on TikTok, with high views and engagement, seem to be much more likely to appear in search results. With this in mind, here are our six key recommendations for creating content to maximise success on TikTok and in organic search:
#1 Identify your content strategy
This is where you get to the nitty gritty of what you want to post about and also what formats you want to take advantage of on the platform. Create content that aligns with your audience's interests to increase the likelihood of them wanting to engage with it. Remember, native features are more likely to boost your visibility within the algorithm so it's important to consider them where possible.
Given the Google update, you need to make sure your TikTok content has clear descriptions and in-video text. Utilise keywords that are relevant to the video's context, and also align to your SEO target keyword list, to help increase its visibility within relevant Google search results.
#2 Think about your posting frequency
When it comes to TikTok in particular, posting between one to four times per week is ideal, however we'd always recommend a quality over quantity approach. Don't force out content just to get your frequency up if it's not relevant or has no value to the viewer. We'd much rather a consistent posting strategy that is feasible to keep up with production-wise.
#3 Use cross promotion to your advantage
Nine times out of ten, you're likely to have a strong presence on other social media platforms as well as just TikTok. Why don't you use this to your advantage to help boost your TikTok results?
The platform recommends using other social media platforms to increase awareness around your presence on TikTok and the content you create. You may also want to consider giving your followers on other platforms a reason to head to your TikTok vs. staying on your Instagram, such as exclusive content for them to watch that they can't view elsewhere.
#4 Diversify your content
Nobody likes feeling that they're watching the same video over and over again and your content strategy should be no different. It's important to consider the different ways you can present your content to keep people interested e.g a day in the life followed by a tutorial.
This is where creating a content plan can be useful, as it'll help you map out your planned ideas and really create a schedule that will excite your audience. Planning also can be great to help align your content ideas with cultural moments happening in the world too e.g Valentine's Day, Christmas, EUROs etc.
#5 Ensure your intro is captivating
With short-form content you don't have time to waste – 10-15s are the most consumed video length on TikTok. With so much content choice for consumers, attention spans are shorter than ever.
Aim to give your users a hook within the first two to three seconds of the video to encourage them to continue watching further e.g "wait until the end" or "I can't believe this happens." Watch time has a huge impact on how frequently your video will appear on the FYP page (For You Page), so creating content that makes people want to continue watching can have a really positive effect on performance.
#6 Be authentic and love what you do
Whatever the channel, your brand's approach to content needs to be authentic. Enjoy creating content that you love and are proud for other people to see.
The biggest (and most successful) personalities on TikTok are the ones who you can tell just love what they do, which is infectious to watch and keeps you wanting more.
If you want expert advice about creating content for TikTok, get in touch!